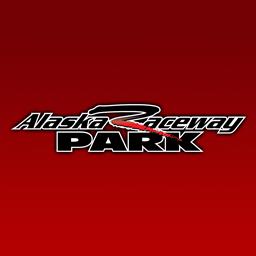 8/7/2022 - Alaska Raceway Park
Palmer, AK
Two-Day NASCAR/INEX Shootout
Sunday Oval Track NASCAR/INEX racing starts early!
Day two of the Two-Day Shootout Featuring Alaska Dirt Late Model Series. Gates open at 11 a.m, qualifying at 1 p.m., and races start at 2 p.m.
General admission:
$15 adult
$12 seniors & military
$10 youth 11-15
FREE children age 10 and under
Pit Admission:
$20 with NASCAR/INEX membership
$35 without NASCAR/INEX membership
Youth (3-13) $10
Kids 2 and under free
The Crate has snacks and your favorite beverages. Pick up swag, hearing protection or snacks & sodas at our Gift Shop. Visiting Vendors vary by weekend. The spectator parking lot is free with admission. All fans can visit the pits after the race to met your favorite driver (no charge for pit visits after the race).
GCI Late Model

7 entries

Baby Grand

7 entries

S&P Certified Car Care Legends

22 entries

Pruhs Construction Thunder Stocks

7 entries

Bomber Stock

12 entries

Bandoleros

8 entries

Alaska Dirt Late Model Series

4 entries
5599 S Race Way

(Mile 10.4 Old Glenn Highway)
Palmer, AK 99645
Available on FloRacing
Full Event Information on MyRacePass
GCI Late Model
Finish
Start
#
Competitor
Hometown
Time
1
3
89
Augie Grill Hayden, AL
Hayden, AL
16.818
2
4
32
John Klayum Palmer, AK
Palmer, AK
17.039
3
1
88
Bryan Barber Anchorage, AK
Anchorage, AK
17.412
4
5
33
Dana Pruhs Anchorage, AK
Anchorage, AK
17.434
5
2
19
Jeff Christiansen Wasilla, AK
Wasilla, AK
17.496
6
6
17
Gil Rapp Jr Wasilla, AK
Wasilla, AK
17.767
Baby Grand
Finish
Start
#
Competitor
Hometown
Time
1
3
2
Travis Holmes
18.558
2
7
86
Tyler Holmes Fairbanks, AK
Fairbanks, AK
18.602
3
6
31
Tonya Wilson Palmer, AK
Palmer, AK
18.925
4
1
3
Steven Ange Palmer, AK
Palmer, AK
19.450
5
5
76
Chad Sandstede Wasilla, AK
Wasilla, AK
19.538
6
4
28
Heath Martin Palmer, AK
Palmer, AK
19.880
S&P Certified Car Care Legends
Finish
Start
#
Competitor
Hometown
+/-
1
2
85
Saygen Boehmer Anchorage, AK
Anchorage, AK
1
2
3
31
Damian Ackerman Wasilla, AK
Wasilla, AK
1
3
1
53
Steve Page Wasilla, AK
Wasilla, AK
-2
4
4
89
Ryan Cote Fairbanks, AK
Fairbanks, AK
-
5
6
-30
Doug Sheldon Anchorage, AK
Anchorage, AK
1
6
5
17
Kyle Boehmer Anchorage, AK
Anchorage, AK
-1
7
10
55
David Kusmider
3
8
9
44
Ty Torkelson Wasilla, AK
Wasilla, AK
1
9
11
20
Troy Lindemyer Palmer, AK
Palmer, AK
2
10
7
00
Roxali Kamper Saratoga Springs, UT
Saratoga Springs, UT
-3
11
13
9
Taylor Garner Wasilla, AK
Wasilla, AK
2
12
15
50
Adam Lang Palmer, AK
Palmer, AK
3
13
12
4
Lacy Kuehl Sarasota, FL
Sarasota, FL
-1
14
14
5
Mike Thomas Palmer, AK
Palmer, AK
-
15
16
8
Scott Janssen Wasilla, AK
Wasilla, AK
1
16
8
42
Brent Page
-8
17
21
86
Bret Lang Eagle River, AK
Eagle River, AK
4
18
20
16
Jay Belcher Anchorage, AK
Anchorage, AK
2
19
18
34
Trent Dillard Wasila, AK
Wasila, AK
-1
20
17
70
Nicolas Petit Big Lake, AK
Big Lake, AK
-3
21
19
54
Ray Devin Anchorage, AK
Anchorage, AK
-2
Finish
Start
#
Competitor
Hometown
Time
1
17
53
Steve Page Wasilla, AK
Wasilla, AK
19.299
2
4
85
Saygen Boehmer Anchorage, AK
Anchorage, AK
19.312
3
1
31
Damian Ackerman Wasilla, AK
Wasilla, AK
19.369
4
5
89
Ryan Cote Fairbanks, AK
Fairbanks, AK
19.398
5
3
17
Kyle Boehmer Anchorage, AK
Anchorage, AK
19.502
6
19
-30
Doug Sheldon Anchorage, AK
Anchorage, AK
19.530
7
10
00
Roxali Kamper Saratoga Springs, UT
Saratoga Springs, UT
19.533
8
16
42
Brent Page
19.650
9
22
44
Ty Torkelson Wasilla, AK
Wasilla, AK
19.684
10
12
55
David Kusmider
19.713
11
15
20
Troy Lindemyer Palmer, AK
Palmer, AK
19.714
12
11
4
Lacy Kuehl Sarasota, FL
Sarasota, FL
19.726
13
8
9
Taylor Garner Wasilla, AK
Wasilla, AK
19.769
14
21
5
Mike Thomas Palmer, AK
Palmer, AK
19.834
15
13
50
Adam Lang Palmer, AK
Palmer, AK
19.991
16
7
34
Trent Dillard Wasila, AK
Wasila, AK
20.251
17
18
70
Nicolas Petit Big Lake, AK
Big Lake, AK
20.359
18
9
8
Scott Janssen Wasilla, AK
Wasilla, AK
20.375
19
2
16
Jay Belcher Anchorage, AK
Anchorage, AK
20.428
20
6
54
Ray Devin Anchorage, AK
Anchorage, AK
20.543
21
14
86
Bret Lang Eagle River, AK
Eagle River, AK
20.543
Pruhs Construction Thunder Stocks
Bomber Stock
Finish
Start
#
Competitor
Hometown
+/-
1
1
44
Dave Stricklan Wasilla, AK
Wasilla, AK
-
2
12
99
Jeremy Copley Wasilla, AK
Wasilla, AK
10
3
5
32
Richard Bogan Wasilla, AK
Wasilla, AK
2
4
3
5
Alex Van Nice Wasilla, AK
Wasilla, AK
-1
5
2
3
Andy Ziegler Wasilla, AK
Wasilla, AK
-3
6
7
64
Dustin Bass Willow, AK
Willow, AK
1
7
8
12
Thaddaeus Phillips Palmer, AK
Palmer, AK
1
8
10
69
David Gulley Wasilla, AK
Wasilla, AK
2
9
6
57
Theresa Phillips Palmer, AK
Palmer, AK
-3
10
11
7
Allie Robuck Eagle River, AK
Eagle River, AK
1
11
9
28
Kaleb Morton Palmer, AK
Palmer, AK
-2
12
4
53
Clayton Petersen Seward, AK
Seward, AK
-8
Finish
Start
#
Competitor
Hometown
Time
1
3
99
Jeremy Copley Wasilla, AK
Wasilla, AK
20.396
2
10
44
Dave Stricklan Wasilla, AK
Wasilla, AK
20.653
3
12
3
Andy Ziegler Wasilla, AK
Wasilla, AK
21.197
4
11
5
Alex Van Nice Wasilla, AK
Wasilla, AK
21.270
5
6
53
Clayton Petersen Seward, AK
Seward, AK
21.340
6
2
32
Richard Bogan Wasilla, AK
Wasilla, AK
21.552
7
8
57
Theresa Phillips Palmer, AK
Palmer, AK
21.821
8
1
64
Dustin Bass Willow, AK
Willow, AK
21.986
9
7
12
Thaddaeus Phillips Palmer, AK
Palmer, AK
22.655
10
5
28
Kaleb Morton Palmer, AK
Palmer, AK
22.763
11
4
69
David Gulley Wasilla, AK
Wasilla, AK
22.774
12
9
7
Allie Robuck Eagle River, AK
Eagle River, AK
22.828
Bandoleros
Finish
Start
#
Competitor
Hometown
+/-
1
1
4
Wyatt Flowers Palmer, AK
Palmer, AK
-
2
3
12
Paden Doerner Anchorage, AK
Anchorage, AK
1
3
2
8
Jozlin Caverly Palmer, AK
Palmer, AK
-1
4
8
9
Lacy Kuehl Sarasota, FL
Sarasota, FL
4
5
4
20
Jacob Gulley Wasilla, AK
Wasilla, AK
-1
6
7
95
Isaiah Johnson Palmer, AK
Palmer, AK
1
7
6
19
Justin Gulley Wasilla, AK
Wasilla, AK
-1
8
5
23
Ella Martin Palmer, AK
Palmer, AK
-3
Finish
Start
#
Competitor
Hometown
Time
1
3
4
Wyatt Flowers Palmer, AK
Palmer, AK
20.632
2
8
9
Lacy Kuehl Sarasota, FL
Sarasota, FL
21.182
3
1
8
Jozlin Caverly Palmer, AK
Palmer, AK
21.303
4
2
12
Paden Doerner Anchorage, AK
Anchorage, AK
21.382
5
4
20
Jacob Gulley Wasilla, AK
Wasilla, AK
21.992
6
7
23
Ella Martin Palmer, AK
Palmer, AK
22.993
7
6
95
Isaiah Johnson Palmer, AK
Palmer, AK
23.545
8
5
19
Justin Gulley Wasilla, AK
Wasilla, AK
30.467
Alaska Dirt Late Model Series