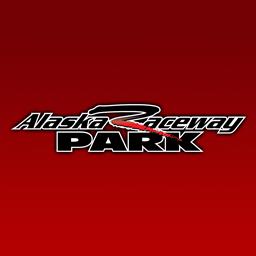 5/12/2018 - Alaska Raceway Park
Palmer, AK
Season Opener NASCAR Race
Non-points race.
Gates open at 3 pm, qualifying at 5, Races start at 6.
General admission:
$10 adult
$8 seniors & active-duty military
$5 youth 11-15
FREE children 10 and under
Pit admission at Noon:
$20 with NASCAR/INEX membership
$30 without NASCAR/INEX membership
NO ONE UNDER 14 ADMITTED IN THE PITS
Food, beverages, gift shop. The spectator parking lot is free with admission.
GCI Late Model

6 entries

Baby Grand

8 entries

S&P Certified Car Care Legends

13 entries

Pruhs Construction Thunder Stocks

4 entries
5599 S Race Way

(Mile 10.4 Old Glenn Highway)
Palmer, AK 99645
Full Event Information on MyRacePass
Baby Grand
Finish
Start
#
Competitor
Hometown
+/-
1
1
25
William McDonald
-
2
5
12
Dakota Creech Anchorage, AK
Anchorage, AK
3
3
4
22
Alex Schwochert Wasilla, AK
Wasilla, AK
1
4
3
63
Brad Generous Wasilla, AK
Wasilla, AK
-1
5
2
58
Brian Jurenka
-3
6
6
7
Keith McGee Eagle River, AK
Eagle River, AK
-
7
7
6
Bart Saunders Palmer, AK
Palmer, AK
-
8 DNF
8
8
Andy Murr
-
Finish
Start
#
Competitor
Hometown
+/-
1
4
63
Brad Generous Wasilla, AK
Wasilla, AK
3
2
6
58
Brian Jurenka
4
3
5
7
Keith McGee Eagle River, AK
Eagle River, AK
2
4
7
6
Bart Saunders Palmer, AK
Palmer, AK
3
5
8
8
Andy Murr
3
6 DNF
3
22
Alex Schwochert Wasilla, AK
Wasilla, AK
-3
7 DNF
1
25
William McDonald
-6
8 DNF
2
12
Dakota Creech Anchorage, AK
Anchorage, AK
-6
All transfer
Finish
Start
#
Competitor
Hometown
+/-
1
6
25
William McDonald
5
2
4
22
Alex Schwochert Wasilla, AK
Wasilla, AK
2
3
5
12
Dakota Creech Anchorage, AK
Anchorage, AK
2
4
1
58
Brian Jurenka
-3
5
3
63
Brad Generous Wasilla, AK
Wasilla, AK
-2
6
7
6
Bart Saunders Palmer, AK
Palmer, AK
1
7
2
7
Keith McGee Eagle River, AK
Eagle River, AK
-5
8 DNF
8
8
Andy Murr
-
All transfer
Finish
Start
#
Competitor
Hometown
Time
1
3
25
William McDonald
2
1
12
Dakota Creech Anchorage, AK
Anchorage, AK
3
7
22
Alex Schwochert Wasilla, AK
Wasilla, AK
4
8
63
Brad Generous Wasilla, AK
Wasilla, AK
5
4
7
Keith McGee Eagle River, AK
Eagle River, AK
6
2
58
Brian Jurenka
7
6
6
Bart Saunders Palmer, AK
Palmer, AK
DNS
5
8
Andy Murr
All transfer
S&P Certified Car Care Legends
Finish
Start
#
Competitor
Hometown
+/-
1
2
5
Mike Thomas Palmer, AK
Palmer, AK
1
2
3
30
Doug Sheldon Anchorage, AK
Anchorage, AK
1
3
1
70
Lance Mackey Fairbanks, AK
Fairbanks, AK
-2
4
5
55
David Kusmider
1
5
8
24
Whitey Davis Anchorage, AK
Anchorage, AK
3
6
7
31
Damian Ackerman Wasilla, AK
Wasilla, AK
1
7
6
68
Dave Gilroy Wasilla, AK
Wasilla, AK
-1
8
10
42
Dave Coates Wasilla, AK
Wasilla, AK
2
9
4
44
Ty Torkelson Wasilla, AK
Wasilla, AK
-5
10
9
4
Dallas Dalton Anchorage, AK
Anchorage, AK
-1
11
11
25
John Byrd Cheektowaga, NY
Cheektowaga, NY
-
12
12
53
Steve Page Wasilla, AK
Wasilla, AK
-
Finish
Start
#
Competitor
Hometown
+/-
1
1
88
Bryan Barber Anchorage, AK
Anchorage, AK
-
2
3
5
Mike Thomas Palmer, AK
Palmer, AK
1
3
2
70
Lance Mackey Fairbanks, AK
Fairbanks, AK
-1
4
4
68
Dave Gilroy Wasilla, AK
Wasilla, AK
-
5
5
30
Doug Sheldon Anchorage, AK
Anchorage, AK
-
6
6
55
David Kusmider
-
7
11
31
Damian Ackerman Wasilla, AK
Wasilla, AK
4
8
8
44
Ty Torkelson Wasilla, AK
Wasilla, AK
-
9
7
24
Whitey Davis Anchorage, AK
Anchorage, AK
-2
10
12
42
Dave Coates Wasilla, AK
Wasilla, AK
2
11
9
4
Dallas Dalton Anchorage, AK
Anchorage, AK
-2
12
10
53
Steve Page Wasilla, AK
Wasilla, AK
-2
13
13
25
John Byrd Cheektowaga, NY
Cheektowaga, NY
-
All transfer
Finish
Start
#
Competitor
Hometown
+/-
1
13
88
Bryan Barber Anchorage, AK
Anchorage, AK
12
2
6
44
Ty Torkelson Wasilla, AK
Wasilla, AK
4
3
12
70
Lance Mackey Fairbanks, AK
Fairbanks, AK
9
4
9
30
Doug Sheldon Anchorage, AK
Anchorage, AK
5
5
8
55
David Kusmider
3
6
11
5
Mike Thomas Palmer, AK
Palmer, AK
5
7
3
31
Damian Ackerman Wasilla, AK
Wasilla, AK
-4
8
7
24
Whitey Davis Anchorage, AK
Anchorage, AK
-1
9
10
68
Dave Gilroy Wasilla, AK
Wasilla, AK
1
10
5
4
Dallas Dalton Anchorage, AK
Anchorage, AK
-5
11
4
53
Steve Page Wasilla, AK
Wasilla, AK
-7
12
2
42
Dave Coates Wasilla, AK
Wasilla, AK
-10
13
1
25
John Byrd Cheektowaga, NY
Cheektowaga, NY
-12
All transfer
Finish
Start
#
Competitor
Hometown
Time
1
2
88
Bryan Barber Anchorage, AK
Anchorage, AK
2
8
70
Lance Mackey Fairbanks, AK
Fairbanks, AK
3
13
5
Mike Thomas Palmer, AK
Palmer, AK
4
6
68
Dave Gilroy Wasilla, AK
Wasilla, AK
5
10
30
Doug Sheldon Anchorage, AK
Anchorage, AK
6
7
55
David Kusmider
7
5
24
Whitey Davis Anchorage, AK
Anchorage, AK
8
11
44
Ty Torkelson Wasilla, AK
Wasilla, AK
9
4
4
Dallas Dalton Anchorage, AK
Anchorage, AK
10
9
53
Steve Page Wasilla, AK
Wasilla, AK
11
1
31
Damian Ackerman Wasilla, AK
Wasilla, AK
12
3
42
Dave Coates Wasilla, AK
Wasilla, AK
13
12
25
John Byrd Cheektowaga, NY
Cheektowaga, NY
All transfer
Pruhs Construction Thunder Stocks