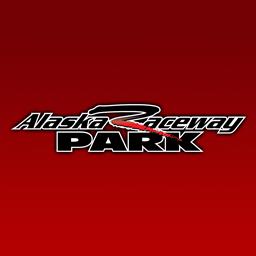 6/6/2020 - Alaska Raceway Park
Palmer, AK
Diversified Tire Oval Track Races
Join us for Diversified Tire night at the Oval.
It's the first in the 2020 points series. Gates open at 3 pm, Qualifying is at 5 pm, and the green flag drops for the heat races at 6 pm.
Stella's and the Crate will be serving up yummy food, as well as ice cold beverages. Check out all the merch at the Gift Shop.
GCI Late Model

6 entries

Baby Grand

10 entries

the Legends of Classic Country 100.9

15 entries

Pruhs Construction Thunder Stocks

6 entries

Bomber Stock

5 entries

Sprints

2 entries
5599 S Race Way

(Mile 10.4 Old Glenn Highway)
Palmer, AK 99645
Full Event Information on MyRacePass
GCI Late Model
Finish
Start
#
Competitor
Hometown
+/-
1
3
8
Tim Workman Wasilla, AK
Wasilla, AK
2
2
4
33
Dana Pruhs Anchorage, AK
Anchorage, AK
2
3
1
18
Stu Laidlaw
-2
4
6
88
Bryan Barber Anchorage, AK
Anchorage, AK
2
5
2
32
John Klayum Palmer, AK
Palmer, AK
-3
DNS
5
19
Jeff Christiansen Wasilla, AK
Wasilla, AK
-
Baby Grand
Finish
Start
#
Competitor
Hometown
+/-
1
1
31
Tonya Wilson Palmer, AK
Palmer, AK
-
2
2
86
Tyler Holmes Wasilla, AK
Wasilla, AK
-
3
4
22AK
Alex Schwochert Wasilla, AK
Wasilla, AK
1
4
3
7
Keith McGee Eagle River, AK
Eagle River, AK
-1
5
5
63
Brad Generous Wasilla, AK
Wasilla, AK
-
6
6
58
Brian Jurenka
-
7
8
76
Chad Sandstede Wasilla, AK
Wasilla, AK
1
8
10
18
Stephen Huff Palmer, AK
Palmer, AK
2
9
7
47
Andy Schwochert Wasilla, AK
Wasilla, AK
-2
DNS
9
007
Shawn Starr Palmer, AK
Palmer, AK
-
Finish
Start
#
Competitor
Hometown
+/-
1
1
31
Tonya Wilson Palmer, AK
Palmer, AK
-
2
2
86
Tyler Holmes Wasilla, AK
Wasilla, AK
-
3
3
22AK
Alex Schwochert Wasilla, AK
Wasilla, AK
-
4
4
7
Keith McGee Eagle River, AK
Eagle River, AK
-
5
6
63
Brad Generous Wasilla, AK
Wasilla, AK
1
6
5
58
Brian Jurenka
-1
7
9
007
Shawn Starr Palmer, AK
Palmer, AK
2
8
7
47
Andy Schwochert Wasilla, AK
Wasilla, AK
-1
9
10
18
Stephen Huff Palmer, AK
Palmer, AK
1
10
8
76
Chad Sandstede Wasilla, AK
Wasilla, AK
-2
All transfer
Finish
Start
#
Competitor
Hometown
+/-
1
7
86
Tyler Holmes Wasilla, AK
Wasilla, AK
6
2
5
7
Keith McGee Eagle River, AK
Eagle River, AK
3
3
8
31
Tonya Wilson Palmer, AK
Palmer, AK
5
4
6
22AK
Alex Schwochert Wasilla, AK
Wasilla, AK
2
5
3
63
Brad Generous Wasilla, AK
Wasilla, AK
-2
6
4
58
Brian Jurenka
-2
7
10
007
Shawn Starr Palmer, AK
Palmer, AK
3
8
2
47
Andy Schwochert Wasilla, AK
Wasilla, AK
-6
9
9
18
Stephen Huff Palmer, AK
Palmer, AK
-
10
1
76
Chad Sandstede Wasilla, AK
Wasilla, AK
-9
All transfer
Finish
Start
#
Competitor
Hometown
Time
1
5
31
Tonya Wilson Palmer, AK
Palmer, AK
18.689
2
2
86
Tyler Holmes Wasilla, AK
Wasilla, AK
18.724
3
8
22AK
Alex Schwochert Wasilla, AK
Wasilla, AK
18.760
4
6
7
Keith McGee Eagle River, AK
Eagle River, AK
19.120
5
4
58
Brian Jurenka
19.408
6
1
63
Brad Generous Wasilla, AK
Wasilla, AK
19.498
7
9
47
Andy Schwochert Wasilla, AK
Wasilla, AK
20.357
8
10
007
Shawn Starr Palmer, AK
Palmer, AK
20.608
9
3
18
Stephen Huff Palmer, AK
Palmer, AK
21.322
10
7
76
Chad Sandstede Wasilla, AK
Wasilla, AK
22.391
All transfer
the Legends of Classic Country 100.9
Finish
Start
#
Competitor
Hometown
+/-
1
2
44
Ty Torkelson Wasilla, AK
Wasilla, AK
1
2
1
88
Bryan Barber Anchorage, AK
Anchorage, AK
-1
3
4
19
Justin Childers Big Lake, AK
Big Lake, AK
1
4
8
43
Al Trettel North Pole, AK
North Pole, AK
4
5
5
30
Doug Sheldon Anchorage, AK
Anchorage, AK
-
6
6
89
Ryan Cote Fairbanks, AK
Fairbanks, AK
-
7
7
5
Mike Thomas Palmer, AK
Palmer, AK
-
8
10
42
Brent Page
2
9
3
31
Damian Ackerman Wasilla, AK
Wasilla, AK
-6
10
11
13
Ed Ackerman Wasilla, AK
Wasilla, AK
1
11
9
53
Steve Page Wasilla, AK
Wasilla, AK
-2
Finish
Start
#
Competitor
Hometown
+/-
1
3
88
Bryan Barber Anchorage, AK
Anchorage, AK
2
2
2
44
Ty Torkelson Wasilla, AK
Wasilla, AK
-
3
4
19
Justin Childers Big Lake, AK
Big Lake, AK
1
4
6
31
Damian Ackerman Wasilla, AK
Wasilla, AK
2
5
5
89
Ryan Cote Fairbanks, AK
Fairbanks, AK
-
6
8
5
Mike Thomas Palmer, AK
Palmer, AK
2
7
7
43
Al Trettel North Pole, AK
North Pole, AK
-
8
10
38
Willie Creech Anchorage, AK
Anchorage, AK
2
9
9
55
David Kusmider
-
10
12
42
Brent Page
2
11
11
53
Steve Page Wasilla, AK
Wasilla, AK
-
12
13
20
Troy Lindemyer Palmer, AK
Palmer, AK
1
13
14
13
Ed Ackerman Wasilla, AK
Wasilla, AK
1
14 DNF
1
30
Doug Sheldon Anchorage, AK
Anchorage, AK
-13
All transfer
Finish
Start
#
Competitor
Hometown
+/-
1
10
88
Bryan Barber Anchorage, AK
Anchorage, AK
9
2
7
31
Damian Ackerman Wasilla, AK
Wasilla, AK
5
3
12
30
Doug Sheldon Anchorage, AK
Anchorage, AK
9
4
3
38
Willie Creech Anchorage, AK
Anchorage, AK
-1
5
8
89
Ryan Cote Fairbanks, AK
Fairbanks, AK
3
6
6
43
Al Trettel North Pole, AK
North Pole, AK
-
7
11
44
Ty Torkelson Wasilla, AK
Wasilla, AK
4
8
5
5
Mike Thomas Palmer, AK
Palmer, AK
-3
9
2
53
Steve Page Wasilla, AK
Wasilla, AK
-7
10
9
19
Justin Childers Big Lake, AK
Big Lake, AK
-1
11
4
55
David Kusmider
-7
12
13
13
Ed Ackerman Wasilla, AK
Wasilla, AK
1
13
1
42
Brent Page
-12
14 DNF
14
20
Troy Lindemyer Palmer, AK
Palmer, AK
-
All transfer
Finish
Start
#
Competitor
Hometown
Time
1
11
30
Doug Sheldon Anchorage, AK
Anchorage, AK
19.233
2
13
44
Ty Torkelson Wasilla, AK
Wasilla, AK
19.279
3
3
88
Bryan Barber Anchorage, AK
Anchorage, AK
19.301
4
4
19
Justin Childers Big Lake, AK
Big Lake, AK
19.309
5
5
89
Ryan Cote Fairbanks, AK
Fairbanks, AK
19.637
6
1
31
Damian Ackerman Wasilla, AK
Wasilla, AK
19.661
7
14
43
Al Trettel North Pole, AK
North Pole, AK
19.847
8
12
5
Mike Thomas Palmer, AK
Palmer, AK
19.879
9
7
55
David Kusmider
19.925
10
6
38
Willie Creech Anchorage, AK
Anchorage, AK
19.963
11
2
13
Ed Ackerman Wasilla, AK
Wasilla, AK
20.263
12
10
53
Steve Page Wasilla, AK
Wasilla, AK
20.356
13
8
20
Troy Lindemyer Palmer, AK
Palmer, AK
20.566
14
9
42
Brent Page
20.632
All transfer
Pruhs Construction Thunder Stocks