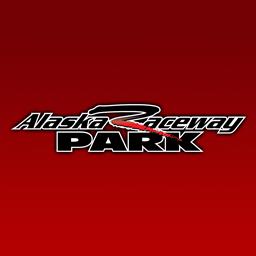 5/20/2018 - Alaska Raceway Park
Palmer, AK
First Points Race
Alaska Raceway Park drag strip points races all day! Spectator gate opens at 10am.
General admission:
$15 adult
$12 seniors & active-duty military
$10 youth 11-15
FREE children 10 and under
Food, beverages, gift shop. The spectator parking lot is free with admission. Spectator fence parking for cars, pickups, motorhomes, and campers is available for a small fee.
old Super Pro

8 entries

old Pro ET

11 entries

old Sportsman

5 entries

old Trophy

3 entries

old Motorcycle

4 entries

old MTA Jr. Dragster

8 entries

Test & Tune
5599 S Race Way

(Mile 10.4 Old Glenn Highway)
Palmer, AK 99645
Full Event Information on MyRacePass
old Super Pro
Finish
Start
#
Competitor
Hometown
+/-
1
2
AX17
Nathan Thornsley Palmer, AK
Palmer, AK
1
2
5
6X65
Curt Crocker Anchorage, AK
Anchorage, AK
3
3
8
6X06
Mike Mihalka Anchorage, AK
Anchorage, AK
5
4
6
1X61
Mark Eslinger Wasilla, AK
Wasilla, AK
2
5
7
8X00
David Arbuckle Anchorage, AK
Anchorage, AK
2
6
4
HX55
Will Holden Chugiak, AK
Chugiak, AK
-2
7
1
Q128
Mike Quintieri Anchorage, AK
Anchorage, AK
-6
8
3
AX70
Greg Thornsley Palmer, AK
Palmer, AK
-5
old Pro ET
Finish
Start
#
Competitor
Hometown
+/-
1
10
0426
Robert VanDenBerg Eagle River, AK
Eagle River, AK
9
2
6
AX96
Monte Soper Palmer, AK
Palmer, AK
4
3
8
7X00
Spike T Palmer, AK
Palmer, AK
5
4
7
1X84
Robert Suders Wasilla, AK
Wasilla, AK
3
5
4
1X01
Beth Claiborne Palmer, AK
Palmer, AK
-1
6
3
1X89
Ron Causa Wasilla, AK
Wasilla, AK
-3
7
5
RX67
Rick Nissen Chugiak, AK
Chugiak, AK
-2
8
1
JX16
John Aure Wasilla, AK
Wasilla, AK
-7
9
9
0440
Pam VanDenBerg Eagle River, AK
Eagle River, AK
-
10
2
AX72
Brenda Axtell Eagle River, AK
Eagle River, AK
-8
DNS
11
JX40
John Postishek Anchorage, AK
Anchorage, AK
-
old Sportsman
Finish
Start
#
Competitor
Hometown
+/-
1
3
1X52
Steve Lord Chugiak, AK
Chugiak, AK
2
2
4
Q503
Alex Van Nice Wasilla, AK
Wasilla, AK
2
3
2
1822
David Hubbard Homer, AK
Homer, AK
-1
4
1
3X06
Karl Greninger Chugiak, AK
Chugiak, AK
-3
5
5
1177
Richard Wall Sterling, AK
Sterling, AK
-
old Motorcycle
Finish
Start
#
Competitor
Hometown
+/-
1
3
B912
Tim Proctor Anchorage, AK
Anchorage, AK
2
2
4
B055
Roy Rank Anchorage, AK
Anchorage, AK
2
3
1
B088
Johny Jones Anchorage, AK
Anchorage, AK
-2
4
2
BX08
Craig "Buck" Otto Anchorage, AK
Anchorage, AK
-2
old MTA Jr. Dragster
Finish
Start
#
Competitor
Hometown
+/-
1
4
167X
Braiden Owen Palmer, AK
Palmer, AK
3
2
7
515X
Riley Soper Palmer, AK
Palmer, AK
5
3
1
J011
Roland Almon Wasilla, AK
Wasilla, AK
-2
4
5
J044
Madison Quintieri Anchorage, AK
Anchorage, AK
1
5
2
217X
Benjamin Aure Wasilla, AK
Wasilla, AK
-3
6
3
113X
Isabella Aure Wasilla, AK
Wasilla, AK
-3
7
6
6SRX
Shelby Roy Seward, AK
Seward, AK
-1
8
8
J103
Sierra Walkins Anchorage, AK
Anchorage, AK
-