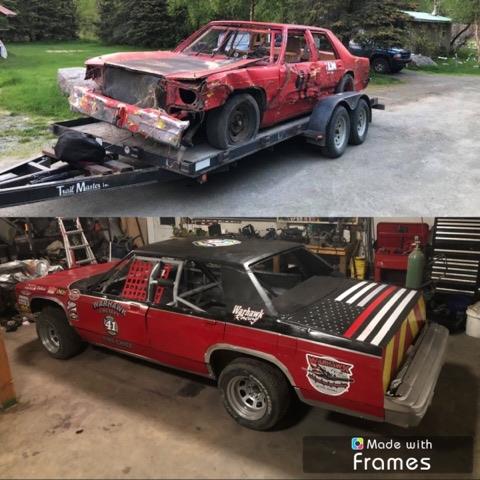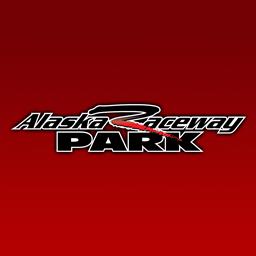 12/23/2019
Alaska Raceway Park
---
Bomber class debuting in 2020
The new Bomber class will be debuting at Alaska Raceway Park in 2020. Proposed rules are below. Feedback can be emailed to Michelle (bl@raceak.com). Thanks Ryne Friederick for working so hard to make this class a reality.
BOMBER RULES
COMPETING MODELS – ELIGIBILITY
A. Any 1950 or newer, coupe, sedan or station wagon. No convertibles, SUV's, vans or jeeps.
B. Minimum stock wheelbase allowed for cars and trucks will be 112". Lengthening or shortening stock wheelbases is not allowed.
C. The following cars are NOT ALLOWED: Monte Carlos or any G-Body, Malibu, Camaro/Firebird, Nova/Ventura/Apollo/Omega, Dart/Duster, Mustangs, etc.
D. Strictly full-sized, economy-based class, no performance modifications or mid-size cars of any type will be allowed.
E. All installations must be tech approved
F. All casting numbers and part numbers must remain intact and unaltered.
G. Pickup trucks must meet all the same rules as the cars in sections 1-22, unless specified within the individual section.
H. Cars and trucks newer than 1991: All Fords with the 4.6L (Crown Victoria's, Lincoln Town Cars and F150's) and Dodge's with the 5.7L (Chargers, Rams) will be subjected to weight penalties pending performance on track during the season.

BODIES
A. Complete bumper-to-bumper steel body must be retained.
B. The stock floor pan, fire walls, trunk, trunk floor, and rear wheel wells must remain intact (front wheel wells may be removed). Rear wheel wells may be partially removed in the trunk area.
C. Car must be strictly stock. No frame cutting or shortening allowed
D. Hood must be kept in place at all times, minimum 2 hood pins or fasteners are mandatory. Hood bracing may be removed.
E. Body sheet metal must be kept in place at all times.
F. All lights, trim and upholstery must be removed.
G. All doors must be welded or riveted shut with filler sheet metal.
H. Inner panel of doors may be removed.
I. The following may NOT be removed: stock firewall, floorboards (in front of the rear axle housing). Rust may be repaired with patch panels (minimum 18 gauge steel).
J. Fenders, doors, hood, trunk may be replaced with steel sheet metal. Roof must be stock for the chassis.
K. Spoilers are not allowed
L. Truck beds must remain intact, no flatbeds or open rear frames. Bed may be covered with sheet metal.

FRAMES
A. Stock frames only. No modifications or alterations of any type allowed.
B. Minimum clearance of 6" is required, measured under any point of the frame rail, with driver in car.
C. No alterations, customizing, or reinforcing of the chassis, other than for mounting the roll cage. Rusted frames may be repaired or patched. Rear frame rails behind the axle may be replaced with tubing.
D. Minimum 6-point roll cage must be attached securely and safely to frame. Minimum of 1-1/2" diameter, .095 wall tubing required. Minimum of 3 drivers door bars and 2 passenger door bars. Drivers door bars must be plated with minimum of 1/8 steel plate to protect the driver.
E. Trucks may have outriggers welded to the frame rails for attaching the cage to provide sufficient mounting clearance.

SUSPENSION
A. Racing springs allowed in stock location for the make and model of car. Springs may be cut.
B. Weight jacks are not allowed.
C. Cutting the frame for clearance is not allowed
D. Shocks must be OEM for make and model, in stock location, with factory stamp visible. No racing shocks.
E. Suspension mounting points and spring cups cannot be altered.
F. Sway bars may be a maximum of 1" in diameter.

STEERING COMPONENTS
A. Stock steering only. No aftermarket parts designed to lower, widen, correct bump steer, or geometry.
B. No Steering quickeners allowed.

ENGINES
A. Engines must remain stock for make, model, and year of car being used. All engines are subject to tech approval.
B. Engine blocks must be a steel V-8 type or V-6 type and be stock factory production.
C. Aluminum intake manifolds allowed with prior tech approval. No high-rise manifolds.
D. Maximum of 1" carb spacers allowed. 2-and-4 barrel carb adapters count towards the total of 1" spacing.
D. All internal engine parts must remain OEM specifications as to size, shape, weight and finish. No performance camshafts.
E. Any procedure associated with a common rebuild will be allowed.
F. Engine and transmission mounts must remain in stock location. Solid mounts are allowed.
G. Cylinder heads must be stock factory productions. No roller rockers.
H. Valves must be stock factory production specifications. No valve jobs, no porting or polishing.

ENGINE COOLING SYSTEM
A. Stock fans or electric fans allowed.
B. Water overflow catch can unit required.
C. No anti-freeze or other coolant in radiators. Water only.

ENGINE EXHAUST SYSTEM
A. Exhaust must extend behind driver and cannot pass through the drivers compartment.
B. Maximum exhaust size 2 ½".
C. Stock cast iron exhaust manifolds required with 4 barrel carbs.
D. Headers allowed with 2 barrel carbs.

TRANSMISSION
A. All parts to remain stock.
B. Automatic transmissions must have OEM torque converter.
C. Manual valve bodies are allowed.
10.BRAKES
A. Stock four-wheel brakes required in good working order.
B. All brakes must function. Brake pads and calipers may not be modified.
C. No bias adjustors allowed.
TIRES AND WHEELS
A. DOT street-type tire except right front. No performance, autocross, racing tires or slicks allowed on the left front, and both rears.
B. 235mm or 8" wide maximum DOT tires. Factory size printed on the sidewalls may not be removed.
C. Right front may be Alaska Raceway Park approved thunderstock racing slick. Takeoffs and new purchases allowed.
E. Maximum 8" wide steel wheel only. 15" and 16" are the only allowed wheel diameters. Steel racing wheels are allowed.
F. No aluminum, magnesium or similar type wheels.
G. No bleeder valves permitted.
H. Oversize studs and 1" lug nuts recommended.
12.ELECTRICAL SYSTEM
A. Battery may be located behind the driver and securely fastened.
B. Mandatory master switch must be clearly labeled and located within reach of the driver and track officials.
C. All cars must have a battery.
D. All cars will have starters in good working order with switches clearly marked, and accessible to the driver while strapped in, as well as from outside the car. All cars must be able to start on their own power.
E. Stock ignition only. No MSD type aftermarket performance parts allowed, including but not limited to, coil, module, cap, rotor, etc.
F. Stock HEI replacement distributors are allowed in all engine makes and models.
13.FUEL SYSTEM
A. Fuel cell must be located in the trunk area with a firewall separating it from the driver. Station wagons must have the fuel cell area sealed off with sheet metal from the driver in a similar manner to a sedan.
B. No gaps or holes allowed in rear firewall.
C. The bottom of the fuel cell may not be lower than the bottom of the frame rails.
D. Stock fuel tank allowed provided it is secure and covered from the driver.
14.CARBURETOR AND FUEL INJECTION
A. No dual line double pumpers.
B. One 2-barrel or one 4-barrel carburetor. EFI allowed for stock make and model.
C. Stock mechanical fuel pump or aftermarket low-pressure (10psi maximum) fuel pump allowed for carbureted engines.
D. Inline electronic fuel pump and electronic fuel injection permitted for make and year. Safety fuel pump cutoff switch must be working on fuel injected cars.
E. Carburetor swaps allowed on engines and cars that came with factory EFI or TBI. The same rules for intake manifolds, fuel pumps and carburetors must be followed for all EFI/TBI to carburetor swaps.
F. Two throttle return springs MANDATORY on all carburetors, mounted on engine.
G. Dry paper filters only. Maximum air filter element height is 3 inches. Top and bottom to be same diameter, no flow diverters of any type allowed.
H. No other modifications allowed to any carburetor or fuel injection system allowed.
I. No controlled vacuum leaks allowed.
15.FUEL
A. Pump fuel only. Maximum 90 octane. Avgas or racing fuel are not allowed.
REAR END
A. Differential may be open, welded, or limited-slip allowed.
B. Ford 9" swaps are allowed in all makes and models using the factory stock mounting points from the donor car, including the control arms or leaf springs
C. Panhard bars are not allowed.
D. Trucks must be rear-wheel drive only. 4wd is not allowed.
17.SEATS AND SAFETY EQUIPMENT
A. Aluminum racing seat is required. Full containment seat is recommended. No plastic or fiberglass seats.
B. Seat must be securely bolted with a grade 8 hardware, minimum of 3/8" bolts. Washers must be used on both sides.
C. 5-point, SFI rated racing harness with quick release is mandatory. 3" wide lap and shoulder belts required. All belts shall be attached to roll cage using minimum 3/8" grade 8 hardware.
D. Safety harnesses/seat belts may be no more than 5 years old. Date must be legible on the belts.
E. Helmet must be closed-face, meet Snell 2010 rated, bear proper identification, and have no signs of previous damage.
F. SFI rated window net is required on the drivers side. Release must be at the top.
G. Approved racing shoes and gloves and are mandatory.
H. Current test date (2 pound minimum) fire extinguisher to be installed in the car within the drivers reach while strapped in. Steel mounts only, no plastic.
18.BUMPERS
A. Stock bumpers or tubular are required. Interchange is allowed, the bumper width must match the car. No sharp edges
B. Stock bumpers may have factory backing replaced with tubing.
19.WEIGHTS
A. 112" minimum wheel base must be 3500 pounds with maximum 52% left side weight.
B. Ballast must be painted white and securely bolted or welded to the chassis.
20.WINDOWS
A. Stock windshields must be removed
B. Minimum of 1/8" thick Lexan or steel wire mesh are required to cover the windshield area in front of the driver.
C. Back window and all other glass must be removed.
D. No mirrors outside the car. All mirrors subject to tech approval.
21.APPEARANCE AND IDENTIFICATION
A. All cars will display a 1-or-2-digit number.
B. Numbers will be a minimum of 18" on the roof and both door panels. Numbers on the roof are to face toward scoring tower (flag stand).
22.COMMUNICATION
A. The use of two-way radio for communication with a spotter and/or pit crew member is not allowed.
RACE PROGRAM
A. Drivers will be warned after causing one caution. They will be black-flagged for causing more than one caution in a single race (heat or feature).
B. Feature winners from previous race will start at the tail end of the feature lineup regardless of qualifying position.
Rules current as of November, 2019
---
Submitted By: Michelle Maynor
Back to News