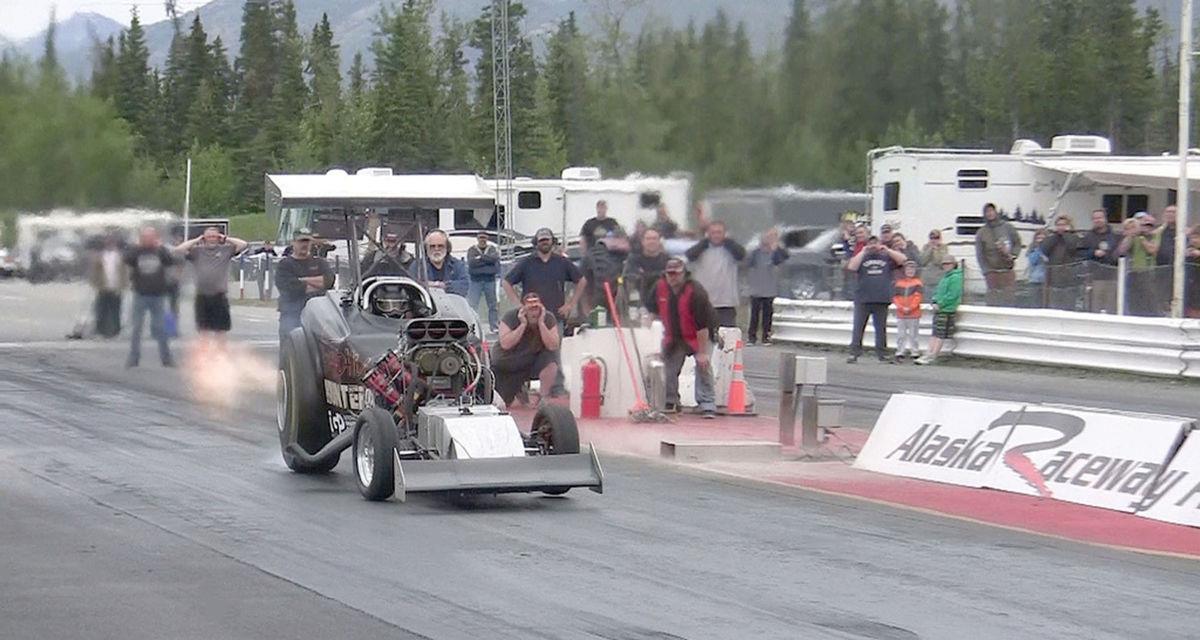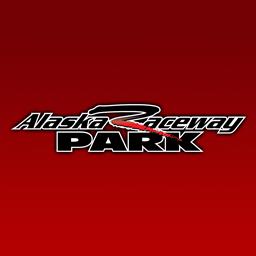 5/28/2015
Alaska Raceway Park
---
Driver Celebrate Holiday on Drag Strip - Mat-Su Valley Frontiersman
PALMER — Memorial Day weekend at Alaska Raceway Park was hit and miss weather-wise, but Monday was glorious, and the track was packed with spectators and two days' worth of race, including a new track record for dual wins in street races.
Looking to break a nitromethane fuel-altered (AA/FA) world record in the Top Eliminator class, John Dixon of Wasilla ran practice and licensing passes in his new Trophy Hunter Fuel Altered, sister car of current track record-holder The Alaska Grizzly out of Fairbanks. Both cars are capable of speeds over 270 mph. The racetrack shook. John is ready for a full run down the track, eagerly anticipated by fans and fellow racers.
"It was — I can't even think of good words to explain it." Dixon said. "To quote the old Harley-Davidson tagphrase, 'If I had to explain it, you wouldn't understand.' It exceeds anything that I've ever done, and I'm looking forward to trying to get the car to the end of the track. Mechanically, we didn't break it, just went half-track for now. We're getting close to a good tuneup. I saw stuff with the car I wasn't anticipating, that I wasn't sure was right; so I got out of it before the hard track. In retrospect, everything was fine. We were erring on the side of caution. Gary Bodendstadt is a super-cool teacher and let me make the decisions, and I did what the car was telling me to do. We'll run on July 4th. Before that, though, The Alaska Grizzly will be down from Fairbanks on Father's Day for testing."
The Trophy Hunter is sponsored by JK&K Trucking, Interior Graphics & Printing, Gene's Chrysler Fairbanks, and Alas-Co General Construction.
Highlighting action with Valley drivers, in the Mod ET class, Monte Soper of Palmer beat runner-up Dan Perry of Wasilla, taking the win in his Camaro in 9.5004 at 137.68 mph, with a reaction time of 0.0770. Then Phil Hubbard of Palmer beat runner-up Monte Soper in a head-to-head battle of Camaros, taking the win in 8.8518 at 146.66 mph with a 0.0036 reaction time.
In the Trophy class, Shiloh Wagoner of Palmer beat runner-up Matt Huettl of Anchorage, taking the win in his F-100 in 12.2914 at 107.65 mph, with a reaction time of 0.1417. Also, Layne Johnson of Wasilla beat his father, Kim Johnson, in a head-to-head battle of RAM 1500s. Layne did 73.43 mph in 15.9423 seconds, with a reaction time of 0.1823.
In Junior dragster, Cole Sheldon of Wasilla beat runner-up Kruize Livingston of Sterling, taking the win in 9.8713 at 64.28 mph in the 1/8 mile.
For more information, visit akracewaypark.com. All race results can be found at akracewaypark.com/1320go; users simply choose the date and the series, and all rounds are returned, including the winner and runner-up.
Information courtesy of Alaska Raceway Park.
Back to News